The Craxton Family
Harold Craxton
A CD of compositions and arrangements by Harold Craxton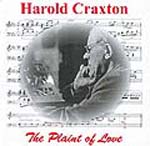 If you would like to buy a copy of the CD, please contact the Craxton Memorial Trust. CDs are priced at GBP 12 each including GBP 1.50 shipment (UK and abroad).
Performed by:
Christopher Howell - pianoforte
Alison Moncrieff Kelly - violoncello
Caroline Goodwin - soprano
James McOran Campbell - baritone
Until the pianist Christopher Howell looked into the cupboard where Harold Craxton's manuscripts had lain virtually untouched for 30 years or so no one had any idea that such a large number of both published and unpublished scores existed. It was this discovery that gave the family the idea of producing a CD of Harold's work as a tribute to him on the 30th anniversary of his death.
The music on this CD is a good introduction to his work. The pieces are romantic and charming and sometimes poignant; the songs are fresh and well-constructed. His arrangements show his interest in early music many years before it became fashionable and have the virtue of simplicity and originality. Altogether it is companionable melodious music, representative of the early 20th century and a wonderful insight into Harold's personality and interests.
The musicians performing these works are not only accomplished artists who do the music great justice but who have also donated their services for the recording. Profits from the CD will go to the Craxton Memorial Trust, which was set up in memory ofHarold thirty years ago and which is a charity that gives financial assistance to young, exceptionally talented musicians in need of help at a crucial time in their lives.
---
1. The Plaint of Love (from a Lute Book, c. 1535).
Freely transcribed by Harold Craxton (OUP 1935)
Pianoforte
2. Two Almans by Richard Johnson, transcribed by Harold Craxton. (OUP 1931)
Violoncello and pianoforte
3. O mistress mine (Shakespeare)
(Unpub, comp. 1944: performing edition by Christopher Howell)
Baritone and pianoforte
4. Meditation (Vita in ligno moritur) (from a Lute Book, c. 1530).
Freely arranged by Harold Craxton. (Anglo-French 1938).
Pianoforte
5. A Maske by Giles Farnaby, transcribed by Harold Craxton (OUP 1931)
Violoncello and pianoforte
6. It was a lover and his lass (Shakespeare).
(Unpub, comp. 1944: performing edition by Christopher Howell)
Soprano and pianoforte
7. Siciliano and Rigadon (c. 1735).
Freely transcribed by Harold Craxton. (OUP 1935)
Pianoforte
8. Sonata in B flat by T. A. Arne, transcribed by Harold Craxton. (OUP 1931)
Violoncello and pianoforte
9. A Requiem (R. L. Stevenson) (Chappell 1914)
Baritone and pianoforte
10. Woodland Lullaby (J. Williams 1917)
Pianoforte
11. Oh! To see the Cabin Smoke (P. J. O'Reilly) (Boosey 1915)
Soprano and pianoforte
12. & 13. Two Mazurkas (OUP 1937)
1. Fminor
2. D flat major
Pianoforte
14. Beloved, I am lonely (May Aldington) (Boosey 1926)
Baritone and pianoforte
15. Mavis (Lefevre) (Boosey 1914)
Baritone and pianoforte
16. A Shepherdess in Porcelain (Anglo-French 1917)
Pianoforte
17. & 18. Two Pastoral Preludes (Anglo-French 1931)
1. Heather Bells
2. Bird Song ("I love my love and my love loves me")
Pianoforte
19. Hearts in Love (Edward Oxenford) (Boosey 1915)
Soprano and pianoforte
20. The Snowdrop (Norman Gale) (Cramer 1924)
Soprano and pianoforte
21. A Tahitian Dance (founded upon native rhythms) (Anglo-French 1931)
Pianoforte
22. Bourrée Humoresque (founded on an 18th Century tune) (Anglo-French 1938)
Pianoforte
---
Remembering Harold Craxton
by Christopher Howell
Mention the name of Harold Craxton to an English musician and it will probably "ring a bell". His name has entered subliminally into most British households where even a little music is played as the "other" editor of what everybody thinks of as the "Tovey edition" of the Beethoven Sonatas, published by the Associated Board in 1931 and still going strong.
Musicians with long memories know more. Craxton was for many years a revered teacher at the Royal Academy of Music, pursued an active career as both solo pianist and accompanist (Nellie Melba, Clara Butt, John McCormack and Lionel Tertis are just some of the distinguished musicians he worked with) and published a certain amount of music. "A Shepherdess in Porcelain" was often set as an exam piece and will be fondly remembered by older pianists (the melody seems to "stick" better than most such pieces) and a song, "Come you, Mary", as recorded by Lauritz Melchior, brought him in the odd cheque from the United States.
As a pianist with a particular interest in British piano music I already knew several of his works when I came into contact with Craxton's youngest son Michael and his daughter Jane, who now runs her grandfather's old home as a rehearsal studio. I also found that I was, as it were, a great-pupil of Craxton's, since one of my most valued teachers, Alexander Kelly, had been a pupil and protégé of Craxton. As a composer, Craxton in later years seems to have done little to convince even his own family that he took himself very seriously and one of Michael's principal doubts, when it was proposed that a CD of his music might be a worthy tribute to him on the thirtieth anniversary of his death, was whether there was enough to fill a disc. As we examined the scores still held by the Craxton Studios it became evident that there was. Further manuscript material came to light after the programme had been chosen and even while it was being recorded (his papers had remained in a state of some confusion). I am glad to say that the programme as it stands remains a good introduction to his work, but some interesting pieces have now emerged and it is to be hoped that resources can be found for a second disc.
So who was Harold Craxton and what value has his music for us today? Born in 1885, he was the son of a publican, and essentially a self-made man. His early musical instruction was typically provincial but he made a first public appearance at the age of five and took the Trinity College Grade One piano examination when he was seven. Some surviving manuscripts, while undated, are in such a childish hand as to suggest he was composing by his early teens at least. He next went to the Tobias Matthay Pianoforte School where he studied with Cuthbert Whitemore and Matthay himself. Following this he rapidly established himself as an accompanist and for an intense period toured the world in the train of the likes of Madame Albani and Dame Nellie Melba. During some concerts for troops he met a violinist called Essie Faulkner and married her in about 1915. It was a highly successful marriage, ending only with Craxton's death in 1971 (Essie died in 1977). As well as providing him with six children Essie seems to have had a naturally hospitable disposition and the Craxtons always found space under their roof for many of the current students and protégés. Ronald Kinloch Anderson, Alexander Kelly (whose younger daughter was delighted to contribute the cello pieces on this CD), Alan Richardson and Denis Matthews were notable beneficiaries and I am assured that there were rarely fewer than fifteen people at the dinner table. Fortunately their houses, both pre- and post-war, were large.
Craxton's work as a pianist did not stop with his new family commitments; he continued to collaborate with some of the greatest soloists of the day and to give piano recitals which were notable for the inclusion of much early music in his own transcriptions. This activity petered out with old age but he never entirely retired from the platform. However, after his marriage his concert-giving was more home-based and teaching became central to his life. He taught briefly at the Tobias Matthay Pianoforte School from 1914 and in 1919 took up a professorship at the Royal Academy of Music which was to last till 1961; to the end of his life he continued to receive pupils at his studio.
As a composer his first publication was Three Pieces for Pianoforte, op.1 (Bosworth 1911) and his last a group of easy pieces brought out by Curwen in 1961. His activity falls into a number of quite clear phases. Up till about 1917 he wrote fairly copiously in a romantic vein close to that of fellow-Matthay pupils such as Bowen and Swinstead. While not usually virtuosic this music is clearly intended for concert use. Not much of it was published. The Woodland Lullaby (J. Williams 1917) is one of the best and is most effectively laid out for the piano, while the simplicity of A Shepherdess in Porcelain, from the same year, points the way to his next phase.
During this period he was also fairly prolific as a song-writer, publishing 12 songs between 1914 and 1919 (several others remain in manuscript). Dame Nellie Melba does not seem to have deigned to sing any of them, but Dame Clara Butt, her husband Kennerley Rumford, Carrie Tubb and John McCormack all did (the latter recorded Mavis). Most are in the vein of the popular ballads of their day, outrageously so in the case of Oh! To see the Cabin Smoke (Dame Clara must have loved it), though their melodies are always fresh and well-constructed. Others, notably Hearts in Love with its delicate alternation of major and minor, Shepherd Love and the dignified R. L. Stevenson setting A Requiem belong to the same world as contemporary works by Quilter. After a short hiatus two further songs (the last to be published) appeared, The Snowdrop (Cramer 1924) and Beloved, I am lonely (Boosey 1926), respectively Quilter- and ballad-like. The Shakespeare songs will be dealt with shortly; meanwhile Craxton's work was moving in a different direction.
In 1920 he edited and arranged five pieces by Purcell, thus signalling his interest in early music. During the '20s and '30s a whole series of volumes were brought out, making many of the pieces available for the first time. Most of it was British but the Craxton-Moffatt Collection of Old Keyboard Music ranged widely. Even today, alternative editions of the Praeludium in D minor by Carbonelli or Signora Auretti's Dance by Hasse would not be easy to find. By modern standards they are unacceptable but their sins are not too heinous (a bit of thickening and a shortage of ornaments) and they did sterling work in their day. Though mostly for piano solo, a few also had a solo instrument, and Craxton had the parts for the cello and viola pieces edited respectively by Sheridan Russell and Watson Forbes. He does not seem to have trusted himself to write for an instrument other than his own, though a small amount of unpublished violin music exists.
This interest in early music clearly taught Craxton the virtue of simplicity, and the bulk of his music from then on consisted of teaching material. The principal exceptions were the 8 Preludes (J. Williams 1955) and a number of very free transcriptions made in the early '30s: The Plaint of Love (a piece with a very special meaning for him), Siciliano and Rigadon, Meditation, and Bourrée Humoresque. In their quiet way these have both originality and integrity. No one else has quite written "old meets new" music in the same way (the nearest parallel might be Vaughan Williams's Hymn-Tune Prelude on Gibbons's ŒSong 13' which, significantly, was published in 1930). To these might be added at least two of the cello pieces; Farnaby's Maske is brought into the world of Elgarian romanticism and the Arne Sonata assumes a character independent of its original.
Craxton's love of the Elizabethan world surely prompted his return to song-writing in 1944. Previously he had been content to set texts by conventional ballad-mongers (the Bible and R. L. Stevenson excepted). The four Shakespeare songs evidently cost him a lot of trouble since each exists in several variant versions, with dedications to a number of celebrated singers, including Isobel Baillie and Roy Henderson. In 1944 they must have seemed old-fashioned (there are no harmonic procedures to which Stanford would have objected fifty years earlier) but in 2001 this need not worry us and they have an unassuming rightness which should make them among the more durable settings of these words.
Craxton's dedicatees are worth a mention, for a study of the names at the head of his scores, published and unpublished, provides a picture-gallery of the many people who populated his life. A good number of the names are female, and some of his lady-pupils were very attractive indeed. The success of his marriage depended at times on Essie's worldly wisdom and tolerance. She was no doubt flattered to be the dedicatee of the evocatively poetic Two Pastoral Preludes and it is to be hoped she was not given to rummaging through her husband's manuscripts, for she would have found that the first was originally inscribed to another woman, the actress Jean Forbes-Robertson. The first of the Two Mazurkas, dedicated to an unidentified "C", achieves a poignantly personal effect by the way in which it is wrapped punningly around the note C.
The picture we have, then, is of a composer with considerable early ambitions who never fully developed yet who never entirely lost his inspiration either. A study of the manuscripts both amplifies and explains this. From the beginning it is clear that composition was not always going to come easily to him. One score of a piece entitled Little Robin Goodfellow - Scherzetto, probably the definitive one, is dated 22.06.1915, rev. 01.1917. Even this "definitive" version is full of pencilled changes, mostly too faint and confused for a present-day editor to take them into account. There are a further nine versions or fragments. The piece was written out sometimes in three-four, sometimes in three-eight (and sometimes just called Valse), many variants have different secondary material altogether, details of figuration but also the basic harmonic structure are changed again and again. His one attempt at an extended piece apparently belongs to the same period and covers pages of sketches. It seems that something on the lines of a ballade or even a one-movement sonata was intended, but it is too fragmentary to tell. Evidently Craxton realised he was not up to writing a piece of any size, or which needed real development.
This wrestling with composition went on right through his life. A brief piece called A Quiet Tune, probably dating from the 1930s and intended as an elementary teaching piece, exists in five versions. They all begin the same; different continuations are tried, as are different endings. Yet one is never led to feel "this time he's got it", and in view of the blandness of the beginning one wonders why he went on trying. From about the same period, no fewer than eight attempts exist for a piece entitled "Hear the mermaids softly singing", many of them crossed out and bearing such startling differences that it sometimes seems a different piece.
So now we find the image of a composer who, though publishing little, was obsessed with composition, struggling again and again with often flimsy material. But what we don't have, in most cases, is the preliminary material for those pieces which came out successfully and were published. Did they cost him the same effort or did they come right more easily? For much of the published music, no autographs survive (the fair copies presumably remained with the publishers, to be pulped unceremoniously in due course). But in a few cases some evidence remains. Tahitian Dance (founded upon Native Rhythms) was published in 1931 and at the foot of the score it is dated Tahiti 1914. On the strength of the autographs some mystification has gone on here. We have an undated version, with a totally different middle section to the published score, entitled Kaffir Dance. A rather more worked out version, with this same middle section, is called "African Dance (founded on a native rhythm and tune)" and dated August 1917. Then, on the smaller MS paper Craxton was using by the 1930s, we have a pencilled sketch of what was to become the final middle section and lastly an untitled, undated MS not far different from the published copy. If any expert on ethnic music hears this disc and can tell me whether the rhythms are African or Tahitian I should be glad to hear from him!
Another case is the song "Beloved, I am lonely". Only a popular ballad, perhaps, but anyone who wants a lesson in how to make such a melody grow naturally should compare it with the several MS versions where the same basic tune takes different and unconvincing turns and a satisfactory conclusion is never found. But here we lack the final step to the version as published.
The study of these MSS has been both fascinating and a little saddening. Who, on looking at the slender catalogue of short and mostly simple pieces, would imagine that so much effort, and probably frustration, went into it?
So is there any point in remembering this music? I think all of us involved in the project felt that there is. The Woodland Lullaby is worth consideration by anyone looking for a romantic British genre piece to slip into a programme. The 2 Mazurkas have, respectively, poignancy and charm. The Plaint of Love and the other free transcriptions are, as has been said, unique in their way while those parts of the Tahitian Dance which date from 1917 show that Craxton did not always turn his back on modernity. Hearts in Love is a very touching little song and the Shakespeare settings merit publication. Craxton's attraction to birdsong, however far from Messaien, is an endearing feature. There is a charming Blackbird and Thrush Minuet in manuscript and the Two Pastoral Preludes have a lot of atmosphere. Frank Bridge, in Heart's Ease and The Hedgerow, had travelled more radically down a similar path a few years earlier, but Craxton's pieces recognisably inhabit the same world. It is companionable music, and he was by all accounts a companionable man, noted for an impish humour preserved in his four skits on Three Blind Mice (discovered too late for the recording, alas) in the styles of Mendelssohn, Mozart, Haydn and Beethoven.
© Christopher Howell 2000